The Gemini Explorer

The Gemini Explorer is a beautiful ex Clyde class lifeboat.

Built in 1974 at Bideford Yard in Glasgow, she still proudly carries her RNLI number of 70-003.

The Gemini has a first class pedigree and a very interesting history. Based in Clovelly in England from 1974 until 1988, she was launched a total of 144 times and saved an incredible 40 lives.

After 1988 she was sold to Kent Fisheries in England and worked as a fishery patrol vessel around the waters of the UK before being bought by her current owner Peter Hizzet in 2003, who refitted and converted her for marine tours, diving and commercial charter work.

These days, based in Buckie on the beautiful Moray Firth, Gemini Explorer is fully MCA compliant to carry 12 passengers and three crew 60 miles from any safe haven.

Being an ex lifeboat she is built to exacting standards and all essential equipment and machinery is at least doubled.

The Gemini still carries original equipment from her RNLI days and draws attention wherever she goes. Her main engines are twin 8, 3lb Gardners housed in their own engine rooms with lots of brass and copper to polish!

The wheelhouse is very much as it was when she was in service with the RNLI, but now enjoys the added benefits of many state of the art electronic navigational aids and features -
Gemini Explorer Features and Navigational Aids

21 mile and 42 mile radar sets
Colour echo sounder

3 GPS systems



Colour plotter
3 VHF radios

Cellnet onboard telephone system




One of the most interesting aspects of Gemini Explorer is her footprint; the unique underwater sound given off by a boat or ship when underway.

Gemini Explorer's footprint somehow seems to attracts dolphins and whales. We believe this is because she emits the sound of a much larger ship, her engines running at low speeds and very quiet whilst underway.

Maybe of course, the cetaceans realise that she is of the highest quality pedigree, just like themselves!

sailing times and prices | meet the captain | book your tour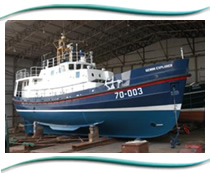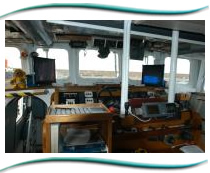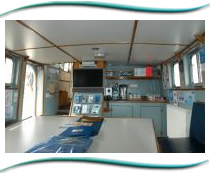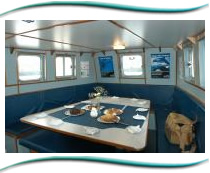 All wildlife photographs shown were taken aboard The Gemini Explorer