Gemini Marine Charters

Peter Hizzett
Peter is the agent of the company.

Having spent many years working on the British Antarctic Expedition Surveys, Peter has worked alongside many accomplished marine biologists and cetacean and bird life experts including Sir David Attenborough, in Antarctica and in other remote parts of the world.

An accomplished nature photographer, Peter also knows the waters around the Moray Firth extremely well, having owned boats and having sailed in the area since he was 13 years old.

Born and brought up in the beautiful village of Cullen on the Moray Firth Coast, Peter returned to his roots after traveling worldwide, seeing an opportunity for a high quality charter boat to carry out marine wildlife watching trips and commercial and private marine charters in the waters around the UK and the Moray Firth.

In 2003 he bought the Gemini Explorer, which since then has been very successful in hosting marine wildlife tours, private charters and as a platform for survey and research projects for institutes such the WDCS, The Lighthouse Project and Aberdeen and Hull Universities.
Davy Smith
Davy is your skipper.
Having been a sailor since his school days, Davy has gained a huge knowledge of the Moray Firth and the West Coast of Scotland. He first spotted Explorer in 2002 and little did he know she would be his baby two years later.

Ask Davy about anything involved with the ocean and an answer is always available. An avid wildlife lover and watcher he usually spots any wildlife movement long before anyone else on board.

Davy is assisted on board by his wife Iris who keeps the boat spick and span and makes a lovely cup of tea!
sailing times and prices | meet the captain | book your tour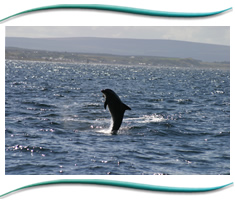 All wildlife photographs shown were taken aboard The Gemini Explorer